Benefits Of Term Life Insurance
Key Takeaways:
Term life insurance is designed to protect your family financially if anything happens to you during a set period of time!
This type of insurance coverage has multiple benefits: the main ones are that it is affordable, flexible, easy to understand and purchase, and has a guaranteed cost.
Everyday Life's term life insurance plans are unique and prevent you from overpaying by giving you exactly the right amount of coverage at the right time!
If you pass away unexpectedly, and you have people who depend on you, they will be left in a tough financial spot – without the income and caregiving support you provided – unless you have term life insurance. Term life insurance requires the policy holder (you) to pay a premium each month for a number of years. You are paying for a certain amount of coverage that will be paid out to your beneficiaries if anything happens to you during those years. (Typically, term life plans last between 10 and 30 years, although Everyday Life plans can be as long as 40 years!)

The biggest, inherent benefit of term life insurance is that it gives families peace of mind. None of us can control the future, or even predict it, but when you buy a term life insurance plan, you don't have to worry that your spouse or kids will go into debt or not have what they need to continue their normal lives if anything happens to you. The house won't be foreclosed on; the kids' college funds won't be drained; your family can focus on grieving and healing rather than stressing about money.
Life insurance in general gives peace of mind, but there are many types of life insurance plans to choose from. Term life insurance plans specifically offer numerous advantages to families, such as….
Simplicity – The only function of term life insurance is to pay your beneficiaries if you pass away prematurely. That's it! You find a plan, apply, get accepted, pay a premium each month to your insurance company, and that's pretty much it. It's the purest form of life insurance you can purchase….there is no investment component (sometimes known as a "cash value", so you don't have to keep up with your plan. Most other term life insurance companies take a "set it and forget it" approach, and Everyday Life updates your coverage automatically during the course of your term; either way, there is no management required on your end. If your term ends, you make the decision to purchase new coverage or go without. It's that simple!
Affordability – The main alternative to term life insurance is permanent life insurance, which gives protection for your entire life, no matter when you die. Because a term life plan only protects you for a few years, the insurance company takes on less risk insuring you. If you don't pass away, they keep the premiums you paid them, and they will never have to pay out the coverage you paid for. So term life is significantly more affordable than permanent life! Many people pay less than $30 per month.
Flexibility – Having a term life plan allows you to make decisions that are important to you. You choose the coverage amount you want to purchase and select how long you want your term to be. If you want to buy separate term life policies for different areas of your life (e.g., getting a 10 year policy to protect against a business investment and a 20 year policy to protect your young kids), you can do that, and Everyday Life actually makes this super easy to do online! Term life plans don't have surrender charges, which are incurred when you cancel your policy, so if you want to get a new plan, you have the flexibility to do that!
Guaranteed Cost – As soon as you purchase a term life insurance plan, your insurance company can't raise your premiums due to you developing an illness or due to other life circumstances. They are guaranteed to stay the same until your policy expires! Permanent life insurance doesn't offer that guarantee. With term life insurance, you don't have to worry that your coverage is going to get more expensive down the road (and with an Everyday Life term life plan, you can have confidence that it will actually get less expensive down the road!)
Everyday Life offers term life insurance plans that have all of these benefits plus more! You can find the right amount of coverage at the right time entirely online in less than 10 minutes. Discover whether term life coverage is right for you and how much you need at https://insurance.everydaylifeinsurance.com/quote/! You don't have to provide any contact information to get started.
The perfect policy is just 3 steps away.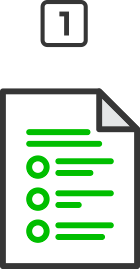 Let our technology assess your unique needs - Takes 2 minutes and no contact info required.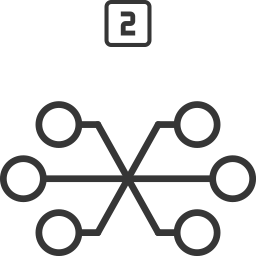 Read your personalized recommendation, explore options and confirm your plan - quick and easy!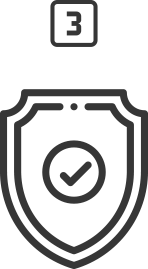 Finish your application online with our underwriting partner.
Takes 10 minutes and may get instant approval!
Term Life Insurance Plans From Everyday Life Offer Even More Benefits
When you buy a term life insurance plan from Everyday Life, you get some unique benefits that no other companies in the industry are offering.
Our plans work differently. Unlike term life companies who offer a single, unchanging rate for a single, unchanging amount of coverage, we use predictive technology to automatically adjust your coverage over time to reflect your life's real needs; this means that the rate you pay decreases, and you can save thousands of dollars over the life of the policy. That's right – your premiums will go down over the years, not just stay the same! We do this because you don't need as much coverage at the end of the term as you do in the beginning. A lot can change between 10 and 30-40 years! Your kids may be moved out and you may have paid off debt; if that's the case, you shouldn't be spending money on unnecessary insurance.
Everyday Life's term life plans….
Can save you thousands – By paying a decreasing amount for decreasing coverage, you can save thousands or tens of thousands of dollars compared to a typical term life plan! Our plans are the most affordable term life insurance plans on the market.


Assess your needs – Many companies assume you know how much coverage you want to buy when you start shopping, but honestly, you may not have any idea how much you actually need! If you just guess, you'll either end up overpaying for insurance you don't need or not having enough coverage to protect your family. Our Needs Assessment Tool uses technology to explore and show you how much coverage is enough.


Can be purchased entirely online – Our end-to-end online process is convenient and keeps you in control. You can do all of your own research from the comfort of your couch or on the go (on any device), and you don't have to speak with an agent who may be biased. You can assess your needs, apply for a plan, and get approved 100% online!


Why Term Life Insurance From Everyday Life Is Ideal For Young Families
Everyday Life's term life insurance plans offer multiple benefits for anyone, but especially for young families who are buying term life insurance for the first time. Take a couple who is celebrating their first wedding anniversary and expecting their first child together soon. They are renting, but dream of buying a house in the suburbs very soon as their family grows. The husband, who is buying his policy, has $75K in student loans and makes $35K as an account manager at a local company. He goes to the gym often and is in great physical shape. Suppose he is purchasing $550,000 worth of coverage over a 30 year span. Another life insurance company may have him pay the same premium each month for that coverage, even when his child is 20 and no longer living at home, and even after they have paid off most of their mortgage….$550,000 is a lot to pay when that is the situation!
Everyday Life may give this individual a personalized term life insurance plan recommendation that looks like this: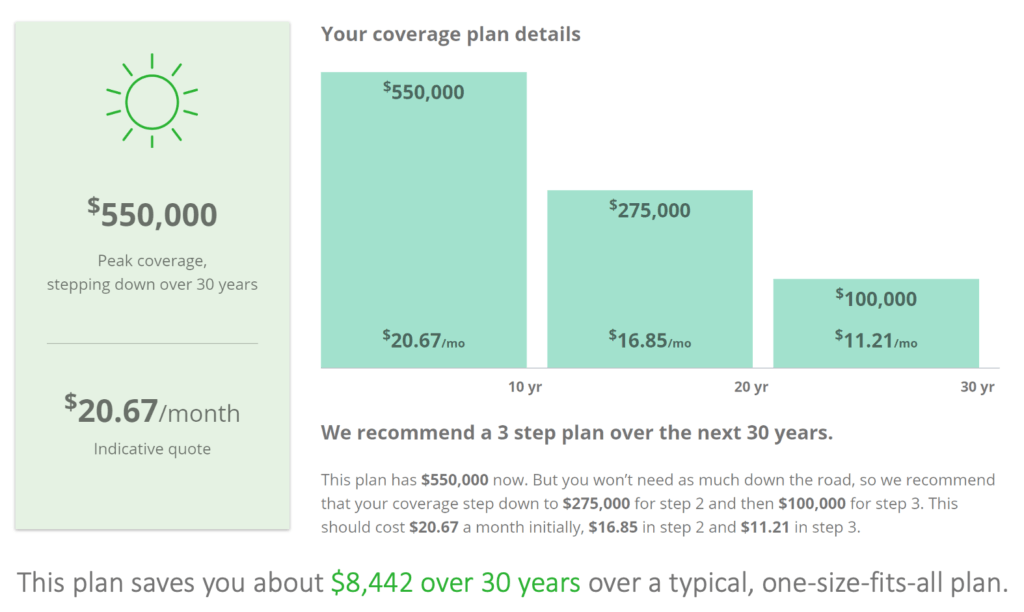 This family can save almost $10,000 with our plans! You can get your personalized recommendation now and learn more about the benefits of buying through us at https://everydaylifeinsurance.com!
The industry's only Predictive Protection™ policies.
Gives you the exact coverage you need at exactly the right time in your life – automatically.
Predictive Protection means your life insurance can keep up with your everyday life.